Discover the best  beach club of Sitges.
The holidays are an ideal time to disconnect, to relax and to have fun. Nothing better than knowing the best beach club of Sitges to share unforgettable moments with your loved ones or friends.
The beach club of Sitges offers sun, beach, Mediterranean food, chill-out music, cocktails and much more. Mornings to breakfast, noon to eat and rest or afternoon to watch the sunset… They are very well cared and decorated places. They offer impeccable service and admirable views.
Below you will find a list of the best beach clubs of Sitges.
1/ Me Sitges: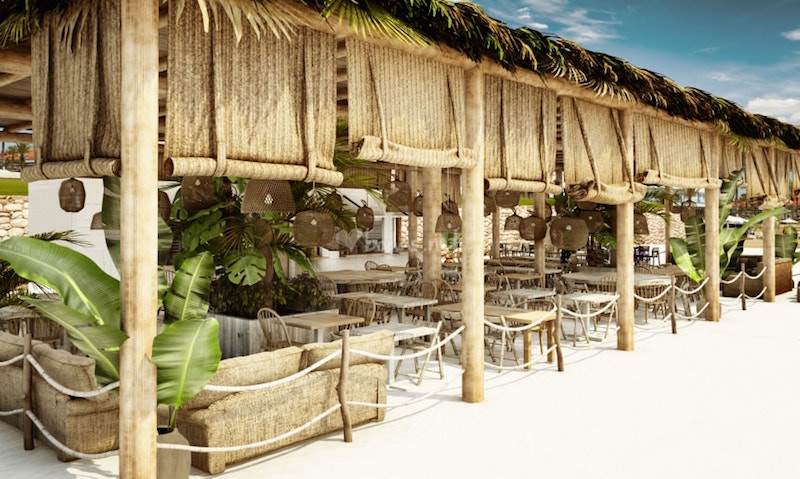 On the Terramar beach, at the end of the Paseo de Sitges, you will find Beso Sitges, a cool and carefree restaurant. Wood and plants decorate it. Mediterranean food and music are his offer every day. The sea breeze refreshes you, while the sunset fascinates you. Enjoy this beautiful place with a fresh salad, a light sandwich, a glass of wine or a divine cocktail. A perfect place to enjoy your vacation with your loved ones.
2/ Hola Club Sitges:

Next to the Sitges Golf Club, facing the crystalline sea, on a surface of soft stones is located this beach club of Sitges. Hammocks to rest, a dance floor to move the body and tables for breakfast, lunch or dinner. All this and much more in this place in which to dream.
3/ Vivero:
On a cliff, surrounded by small coves, with unbeatable views of the sea and the Church of Sitges, this restaurant – beach club of Sitges will surprise you. A place to relax with a massage, practice a yoga class, savor a cocktail or taste a paella.  Its offer is very varied and pleasent.
4/ Little Beach House:
In a building from the 1950s of the Garraf, on the beachfront and overlooking the sea is this place. 10 minutes by car from Sitges, this space opened its doors in 2018 to delight his client with an exquisite Mediterranean menu, fresh and very appetizing drinks and numerous outdoor activities.
Mediterranean tapas, vegan dishes, pizzetas, sandwiches, meats, fish and rice … Yoga classes, beach massages and chill-out music … All this and much more in this exquisite place.
Now that you know the best beach club of Sitges, you have no excuse. Rent one of our wonderful villas in Sitges and enjoy the pleasures of the Mediterranean with your friends and / or loved ones. Leave the day-to-day routine and allow yourself to enjoy life.