Practice Private Yoga in your Luxury Sitges Villa.
Practicing Private Yoga in your luxury Sitges villa  is possible with WeeklyVillas. You just have to tell us the number of people interested and the day and time that suit you best. Once the reservation is processed, a Spanish, French and English speaking teacher, specialized in Hatha Vinyasa, will come to your vacation home to give you a Private Yoga Class.
Practicing Private Yoga in your luxury Sitges villa during the holidays is a very smart decision, because:
it keeps the body active and moving, flexible and lighter,
it hydrates the cells of the body, the joints, the tendons and the ligaments,
it calms the flow of thoughts, clarifying and focusing the mind,
it reduces levels of stress, anxiety, depression or apathy,
it balances emotions,
it brings peace, well-being, a feeling of lightness and tranquility.
Para reposar y desconectar. Due to the high work demands of our society, many of us suffer the harmful effects of stress and anxiety: we suffer from insomnia, we are fatigued, we are overweight, moody, desperate or irritated … Use a part of the holidays to heal our body, relax our mind and connecting with emotions is essential to recharge and rest. To recover and disconnect.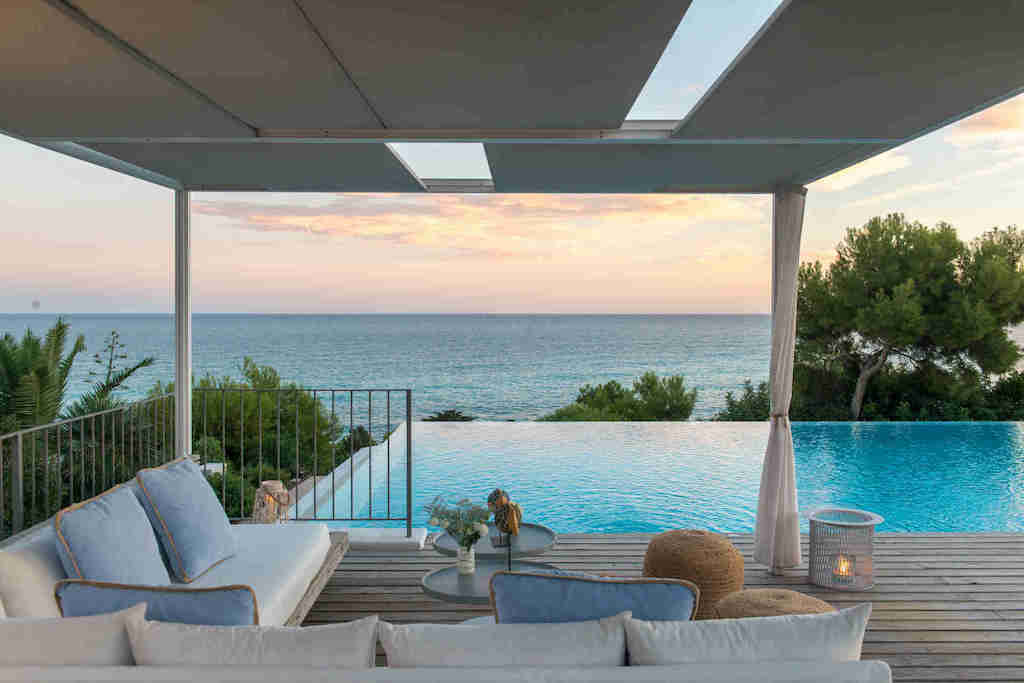 For this reason, practicing a Yoga class in your luxury Sitges villa is one of the best gifts you can give to yourself this summer. Enjoying a private session of stretching, movement and breathing at your vacation home can restore your body and fill you with joy. It is also very comfortable, because the teacher comes to your house and speaks to you in the language that is easiest for you to understand: Spanish, French, English or Catalan.
You only need to have your own mat (if this is not the case, you can practice on a towel on a soft surface such as grass).
Don't think twice and book your private Yoga class at your holiday home in Sitges. Make your summer a memory of sun, beach, sand and also self-care. To rejoin your work with energy and motivation, to start the month of September with joy and great doses of inspiration, you must attend to the needs of your body, your mind and your heart. And the secret is in the self-care you give to yourself this summer.